THE BASICS : Book Description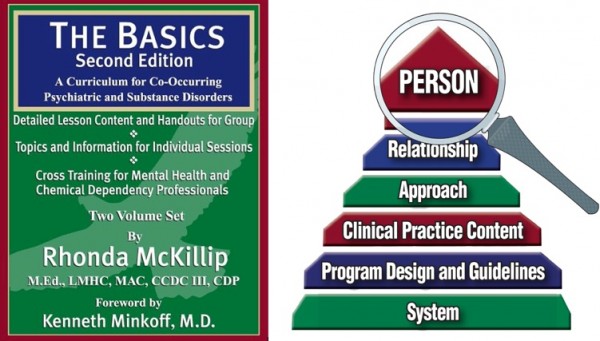 Is integrated treatment a priority?…a requirement?… do you attend lots of trainings?…buy lots of books?… yet find it a challenge to know exactly what to say to a psychiatric consumer with an addictive disorder or an addiction client with a psychiatric disorder?  
Integrating your treatment program and cross-training your staff doesn't get any easier than this!
"I am delighted to be able to recommend The Basics, Second Edition for clinicians in both the mental health and addiction treatment fields."
Kenneth Minkoff, M.D.
Dr. Minkoff is recognized as one of the nation's leading experts on Dual Diagnosis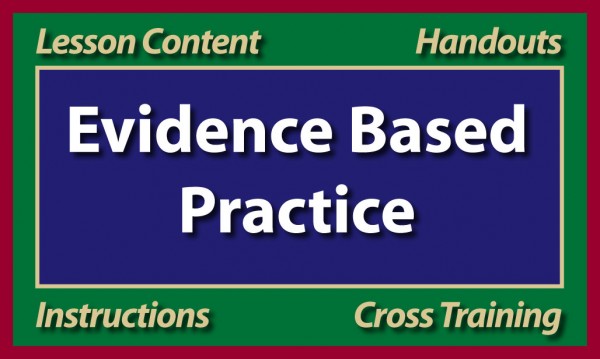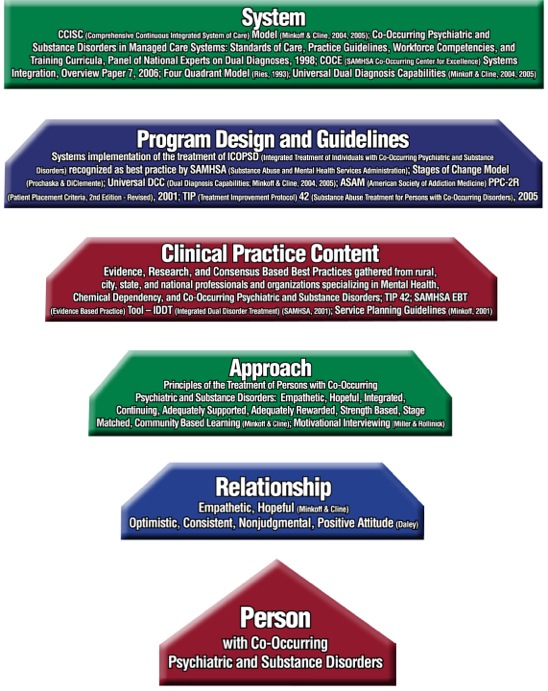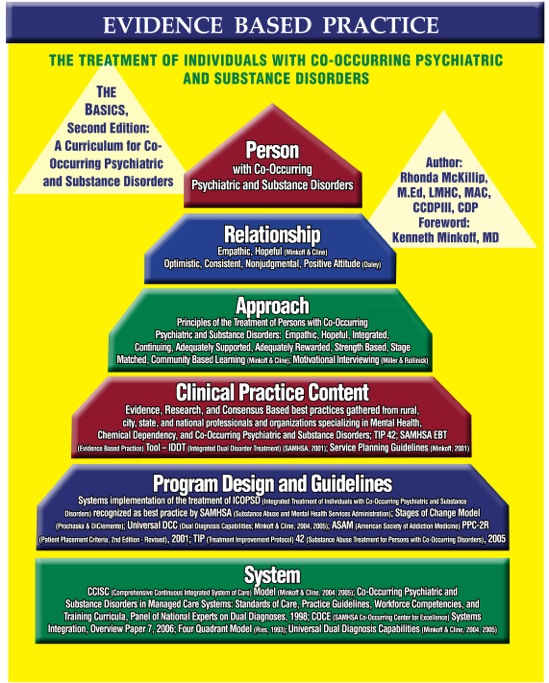 Q. What sets The Basics, Second Edition apart from other publications?
A. It eliminates gaps. When a publication focuses first on training the professional…the professional must then transfer that knowledge into a useful format and into conversational language. The Basics is the treatment by first providing a " ready to present" curriculum. The professional is then simultaneously cross-trained on psychiatric and substance disorders by learning literally how to provide treatment to the dually diagnosed population.
Q. Is The Basics evidence-based?
A. With over 1,600 references released in a 1,200 page two-volume set, The Basics, Second Edition is a Consensus-Based Best Practice. It is specifically designed to match the evidence based best practices consistent with the CCISC Model (Minkoff & Cline) , Stages of Change (Prochaska & DiClemente) , Motivational Interviewing (Miller & Rollnick) , and NIMH (National Institute of Mental Health) & NIDA (National Institute on Drug Abuse) studies from the Decade of the Brain.
Additional Questions and Answers are located on the "Question and Answer" page
A few recommendations…
(Additional References are located on the "Reference for The Basics" link)
"If the adage is true that 'more is better,' then this 1,200-page curriculum has to be fantastic… and I would tend to agree. Data presentation is based on sound clinical approaches…the author leads you through maintaining appropriate measurable goals and objectives…and participants' strengths, cultural diversity, diagnosis, functioning level, and severity and acuity of specific disorders are considered…making generous use of empathy and hope. As always the teacher learns more than the student…" – Lindsay E. Freese, M.Ed., MAC, LADC Book Review – "A Co-Occurring Curriculum That's Worth Its Weight" – Addiction Professional Magazine
" The Basics is the most complete curriculum for co-occurring disorders that I have seen in my twenty years in the behavioral health field. Both entry level and advanced practitioners will find the handouts and group session formats easy to follow and effective with a variety of audiences."
Susan Lang, MPH, OT/L
Consumer Affairs Director, Central Florida Behavioral Health Network (CFBHN)
"The Basics was the single most helpful product we have come across to insure consistent client educational information in our inpatient, residential, and outpatient levels of care. I highly recommend The Basics, Second Edition to counselors or agencies that work with this population."
Mark R. Brownlow
Administrator, Spokane Addiction Recovery Centers (SPARC)
" The Basics has been a core reference and guide for many agencies attempting to integrate treatment for co-occurring disorders in Oklahoma. Their copies are invariably well worn, marked with sticky notes and highlighted throughout, reflecting its value and the frequency with which it is used."
L. D. Barney, MA, LADC
Co-Occurring Program Specialist
Oklahoma Department of Mental Health and Substance Abuse Services
"Rhonda…I can't tell you how valuable I have found using The Basics with inpatients and outpatients this last year.  As a psychologist, I use The Basics in my private practice, our psychiatrists use it at the hospital, and our facilitiators use the sets in the group setting. Our psychoeducational groups are facilitated by both professionals and paraprofessionals and all of our group leaders delivered the curriculum easily and effectively.  The Basics is a powerful tool and group members can join in at any point and benefit. I am giving these six copies I just purchased to therapist friends of mine to start off their New Year and recovery focus the right way!"
Lynne Becker, PhD  Licensed Psychologist, Sherman Oaks, CA
Phone: (509) 258-7314
Email: rhonda@mckillipbasics.com